Along sparkling Lake Zürich lies Switzerland's sophisticated jewel Zürich. Filled with luxurious shops, art galleries and a large assortment of museums, Zürich is a cultural mecca. You'll also enjoy its alpine panoramas, cobbled streets, charming historical buildings, haute cuisine and cozy cafes. You may even have time to take in a play in one of Zürich's many theatres before departing the largest city in Switzerland.
Things to do and see:
Indulge yourself window shopping on the famed Bahnhofstrasse.
Appreciate fine art at Kunsthaus gallery.
Tour the fascinating Swiss National Museum for historical perspective on this unique alpine country.
Drift lazily on Lake Zürich or tour the amazing Zürichhorn Gardens or the beautiful Zoological Gardens that boast more than 2,000 animals.
Explore the nearby region's lush vineyards and wineries.
Visiting surrounding areas: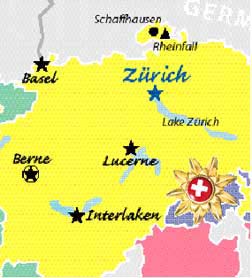 As Switzerland's largest city, Zürich often serves as the starting point for many Swiss destinations. With its International Airport and extensive train system, a visit to elegant Zürich can extend into a full exploration of the beautiful sights of Switzerland.
Suggested Excursions:
Guided Walking Tour of Zürich: Start off at the Bahnhofstrasse, the famed shopping area and enter the picturesque old part of the city by crossing the river Limmat. Pass city hall, Grossmuenster Church and the Lindenhof, then visit St. Peters Church and Fraumuenster Church to see the Chagall windows.
Trolley Tour of Zürich: Get to know the city on a nostalgic trolley car. In-depth descriptions of the city are provided via headphones.
Limmat / Zürichhorn Cruise: Explore Zürich by boat: from the Limmat River you will see both the old and new parts of central Zürich with views of the Fraumuenster and Grossmuenster churches. Continue on to Lake Zürich for another splendid city view.
Excursion to Schaffhausen & the Rhinefall: At the foot of Munot Fortress lies the old city of Schaffhausen, built on terraces on the north bank of the Rhine. Enjoy a walking tour through one of the most attractive towns of Switzerland with its ancient streets and alleys. Continue to Europe's biggest falls, the Rhine Falls, located a short ride away. The river is 150 m wide and plunges from a height of 21 m, with an average flow of 700 cubic m of water per second.